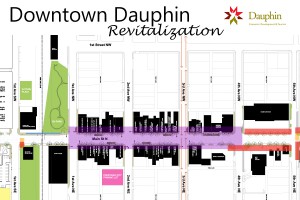 Downtown revitalization is a key strategic priority area for the City of Dauphin's Economic Development & Tourism Board. To focus on and formalize activities in this area, a Downtown Development Committee composed of business representatives was formed in 2014 as a subcommittee of the Board. The following four potential downtown revitalization priority areas have been identified through feedback from various downtown development meetings over the past five years along with discussions of the Committee.
Improving public and private spaces
Attracting development, commercial tenants and residents
Providing reasons for people to spend time downtown
Promoting all that the area has to offer
We've seen many changes and improvements in the downtown over the past few years. New businesses, new construction, improved rental housing and additional parking. And now, Mayor & Council at the City of Dauphin have approved a multi-year streetscape enhancement program and are encouraging Committees of Council and other community organizations to focus projects on downtown initiatives for the next few years.
Is there a new theme for downtown?
There isn't a theme but a set of design elements that can be incorporated in public spaces and for businesses to use as a coordinated element as well. These design elements include warm woods (e.g. Varathane Woodstain colour Traditional Cherry No. 245), black and/or graphite metals.
The new bike racks are black metal, the street lights were painted black with black and white new LED lighting tops updated by Manitoba Hydro, and new benches are black metal with warm wood seats.
What has happened to date? 
In 2015, the Downtown Development Committee contracted HTFC Planning & Design out of Winnipeg, MB to provide recommendations for a potential downtown streetscape enhancement initiative.Downtown businesses were invited to participate in the consultation process and had the chance to collaborate on the initiative. We took their input and HTFC's experience and devised a multi-year strategy to enhance our downtown area.
As well, the City of Dauphin purchased the vacant lot at 15 2nd Ave NE and created a gravel parking lot for public use.
Other projects completed to date are as follows.
Main Street Streetscape Enhancements
Gateway signs welcoming you to the downtown area from the south and north
Benches
Light standard upgrades – new LED tops by Manitoba Hydro and posts to be painted black
New dual stream garbage & recycling containers
Bump out park preparation for new benches and other upgrades to be completed in 2017
Updating existing wooden structures like the fences along Main Street and the railway tracks with stain that matches the design elements
Storefront Improvement Incentive Program (currently in its 3rd and final year)
Active Transportation
Signaled cross walk sign to be installed on Main Street North at 4th Avenue (Post Office corner)
Traffic study at Main Street South and 1st Ave South
CN pedestrian underpass improvements
Installation of bike racks in the downtown area
CN Park & CN Station upgrades
Foliage clean up in CN Park
New LED lighting near the CN station
Passenger warming shelter for VIA rail passengers
Up lighting of the CN station
Improved luggage cart bases
Refresh of the existing benches
New meeting space pad at the original CN Station location in CN Park
Replace the interpretive signage in CN park
Fencing along the CN tracks
More information will be posted to this page as it's made available. Contact the Economic Development office at 204-622-3229 or ced@dauphin.ca if you have any questions.